Humble beginnings – looking back on my first knives.
Part of my journey building things, was to invent creative ways to fund my projects, without breaking into the family income.
I made a couple of knives out of a bandsaw blade and a lawnmower blade. My friend Alistair saw this on a forum and invited me to Tharwa Valley Forge, near Canberra, for a knife-makers meeting. Karim Hadad, (the owner), gave me valuable advice and critique on my knives and then gave me a fistful of the correct steel to go and practice on. He has supported me with sound advice and encouragement ever since.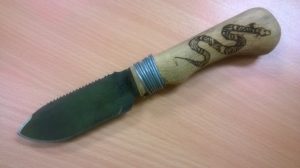 One thing led to another and I built two of my own forges out of scrap metal. With sound advice from Karim and other knife-makers, I learned how to design and improve my knives. Each knife became a wonderful way to thank someone for helping me with my builds, as I gave them away to those who had given freely to me. I made over 60 knives and gave them away. The knife-making community got behind me for the Iron man project and brought my skill levels up very quickly so I could sell knives to fund the suit.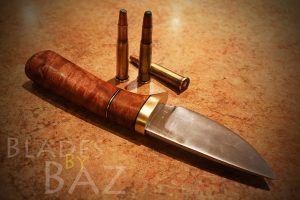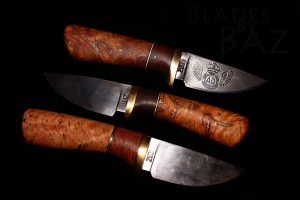 A fun blade made from a Damascus billet stub and some deer antler.
7 December 2018
I just finished this Damascus Chef's knife today, after weeks of fussing over the blade design. It actually started out as a Bowie, but every time I put it to the grinder I stuffed it. Every time I tried to correct it, I made it worse!
My thanks to a handful of talented knife makers who gave me advice and guidance on this one, Including all the team at Tharwa Valley Forge, Karim Hadad, Jackson Rumble, Matt McVicar, Adam Fromholtz and Leila Hadad, as well as some experienced guild members who helped me make some decisions on what to do with it. ABS MS Shawn McIntyre and Peter Del Roso in particular. Cheers gents, I was ready to throw it over my shoulder. Practice makes perfect! I'm very happy with it now. The Damascus steel is a sixteen layer twist pattern billet I forged some weeks ago with Matt McVicar.
Baz.