Viper MK II cockpit reference pictures.
(This page under continual review to improve references.)
Instruments, controls and furniture
This page identifies instruments from the 2003 reimagined MK II Colonial Viper cockpit. I've been collecting reference all over the web and found  much information gathered by others. However, scattered photos and fan-found information is not comprehensive enough in any one source to faithfully re-create an entire cockpit. I have shamelessly cut and pasted from these sites as they often go down or offline for good, so hopefully I can save all this for posterity.
I learned a great deal from a site called Galactiguise. It gave me a good start point to go and find out more. Steve there has done some great work and has emailed me with some good starting information.
Also, I have contacted aircraft museums, aviation enthusiasts, some of my army friends who are pilots and various fan groups and pages to gather as much information as I can to ID all the parts. I have written to the owner of the original prop sold at auction, but he is a very busy business man and indicated that it is in storage and he is not in a position to be of assistance. I totally understand that, so it's a case of persistence and determination. I have tweeted some of the cast and written to sci-fi museums. Time will tell if any of them lead to some detailed information on the cockpit specifications, dimensions etc.
If you were ever lucky enough to see the real thing in person and were able to get any good photos of the inside of the cockpit, PLEASE SHARE THEM!!! I am quite sure many fans would, "Squee!!" at the prospect of previously unpublished photos.
Caution!: I was reminded by a friend about the radiation that can be emitted by some avionics instruments. Please be aware there can be invisible radiation hazards. Here's a great article to explain.
Below are the instruments identified. I have now acquired all I need for the build.
Special thanks to those generous hearts who have donated broken/unserviceable instruments, and helped me with the displays in the cockpit. It's heartening in a challenging project to see such kindness.
Matt Coggs, Don Gorrie, Wayne Bridge, Hawker Pacific Australian Avionics, Andrew Wall and Rob Simpson of Simpson Aeroelectrics.
Thanks also to the countless many who offered advice and ID on the instruments via aviation forums and social media groups.
Wulfsberg C-962A Control Unit w/ 8130 – 400-0073-010 (Acquired)
(For all of these 50mm instruments above I used other gauges donated by Rob Simpson of Simpson Aeroelectrics with a printed false face to match, thanks to artwork from Andrew Wall). See the cockpit fitout page.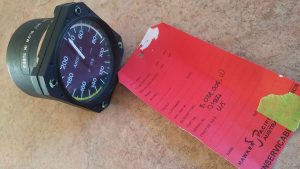 The seat itself is known as a model 70200 Pro High Back Race Seat. It's the cover that is the Poly Baja High Back, model number RCI8000S. (Seat and cover now acquired) I still don't know how the seat is actually mounted. Hopefully time will tell.
The pilot restraint harness is a [9210D] RCI (Racer's Choice Inc) 3″ 5-Point Seat Belt (Black). Outlaw speed shop in Australia sells them, or you can find them on Ebay.
The smaller, lower screen is from Marshall Electronics and is a V-R70P, seven inch widescreen LCD monitor with S-video and composite inputs.
As I could not readily source nor afford one, I made one out of wood and steel. The same goes for the unidentified housing. I just had to make one based on screenshots.
I think the words read, "Test", "Auto" and "Start" but I can't make what it says just in front of, "Start".
Thanks to, "Rass" on the Overclockers Australia Forum, (OCAU) for positively identifying it as a  General Electric SBM Control Switch with the shaft and selector button removed. The text selections differ depending on the model, but that's what it is.
Accelerometer – Beechcraft, (G-Meter) (Acquired)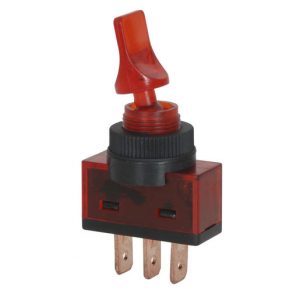 Sign writing and markings.
Part of the job is also to try to faithfully reproduce the sign-writing inside the cockpit. There are several plates and areas of print. The website Galactiguise has the font, called, "Spaceage" which you can click on their link to download and install it. There are other fonts called spaceage, so make sure you get it from Galactiguise.
20 Dec 2017: An angel sent by God Himself just sent me so much information and amazing photos I can use but not share, except to say that a lunchtime of time spent on messenger yielded more than weeks of internet research! He wants to remain anonymous. With his permission I can share this though…. you know that starboard panel that I was looking for? The one where no-one had any more than the edge of it? Well…. I present to the world… thanks to the above mentioned angel….. TADAAAAAAA!!!!!
As I recreate the signage, I will place it below.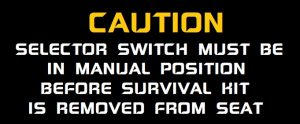 Paint colours.