*This page will be updated with progress work on building the helmet.
No life sized Viper builder in his right mind would do so without completing the ensemble with a uniform and helmet! That being said, there are a few ways I can go about this. Buy one, (where's the fun in that?), make one using the Pepakura/fibreglass method, (very challenging but also very satisfying), or scratch build one out of cardboard then transfer to another material once I'm happy with it. (As I did for the Iron Man suit).
PRACTICE WITH CARDBOARD FIRST!!
I can't stress the above heading enough! You will probably mess it up and you likely won't end up using it, but do it anyway. You will learn so much and really get a feel for your model before you go wasting precious time and materials and money.
Cardboard is FREE, EASY to work with and you can stick it all together very QUICKLY with a hot glue gun and glue sticks for around $10.
I had a freehand attempt using a screenshot as a reference and learned a lot. Making something and having it in your hand identifies issues you may never have thought to tackle. It also gives you ideas along the way, once your creative juices get flowing.
BUILDING WITH PEPAKURA
Moving on now with Pepakura. Here's a link to Papercraft Plaza where there is a .PDO file for the helmet. It is about 30 A4 sheets right out of the file, but depending on your manipulation of it, there may be more or less pages. I left out all the detail pieces and just did the main helmet. A lovely gentleman by the name of Ben Aerens designed it. I was lucky enough to get in contact with him and ask questions. He was a very easy-going and helpful bloke to work with.
If that site goes down I have a copy if anyone wants it, but I think he would prefer you get it from there first. Please make sure you give him credit for using his file.
Pepakura viewer and Pepakura Designer are needed to view, change and print the .PDO file. There are free and paid versions available for download. Check with prop-building forums like the Replica Prop Forum, (RPF) and tutorials on YouTube for instructions on how to use Pep.
After measuring my head, entering the scale into the file in Pepakura Designer, it's printed onto 200GSM A4 paper, ready to cut, fold and glue.
Making the paper stage of the helmet took about 15 hours over three nights, with distractions. The Colonial Warrior Viper Pilot helmet is a very detailed and stylish helmet. I am looking forward to hardening it and detailing it, then adding the internal padding and lights.
The helmet that is the PERFECT size for my melon, but the hole is way too small to squeeze through. I don't want to make the helmet bigger or it just looks stupid. How do I solve this? The way I did it with the Iron Man helmet was to cut a section out of the back and hinge it, but I've seen some pretty cool methods using strong magnets to attach a cutaway section out of the back.
I was concerned that the helmet, while it fit, allowed no room for padding so I re-made it at 10 percent larger.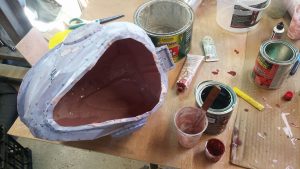 This build involved a little bit of internet research and networking with others to find out what the original prop-builders used in the production of the show. The large gold fitting on the back of the helmet is a hose splitter from a two-drawer dishwasher. The large braided hoses could be either a braided sleeve coaxial cable, or the hoses from under your sink. Careful study of photos and putting it out there on social media proved fruitful as others recognised everyday items.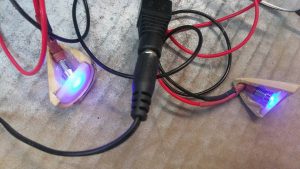 Below are some handy screenshots for reference to help with builds.